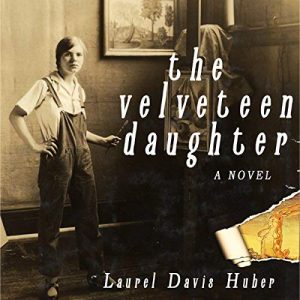 The Velveteen Daughter  …
reveals for the first time the true story of two remarkable women: Margery Williams Bianco, the author of one of the most beloved children's books of all time, The Velveteen Rabbit, and her daughter Pamela, a world-renowned child prodigy artist whose fame at one time greatly eclipses her mother's. But celebrity at such an early age exacts a great toll. Pamela's dreams elude her as she struggles with severe depressions, an overbearing father, an obsessive love affair, and a spectacularly misguided marriage. Throughout, her life raft is her mother.
The glamorous art world of Europe and New York in the early 20th century and a supporting cast of luminaries – Eugene O'Neill and his wife Agnes (Margery's niece), Pablo Picasso, Gertrude Vanderbilt Whitney, and Richard Hughes, author of A High Wind in Jamaica – provide a vivid backdrop to the Biancos' story.  From the beginning, the novel will captivate listeners with its multifaceted – and resonates with its multifaceted – illuminating observations on art, family, and the consequences of genius touched by madness.
---
By: Laurel Davis Huber
Narrated by: Alex Lee
Length: 10 hrs and 56 mins
Unabridged Audiobook
Release date: 09-07-18
Publisher: Laurel Davis Huber
Available from:  Audible   Amazon   iTunes
---
---
Reviews
"The Narrator makes this fine novel pulse with life"
"I had read this book first, but since I love audio books, I wanted to hear it read aloud. I was utterly enchanted. The narrator, Alex Lee, brings so much life and feeling and heart into the story so that the characters come to life, and become Real, like the Velveteen Rabbit!
This mother daughter story spans a lifetime, and we the reader enter the story just when there was an end of innocence, the moment when a young girl who was happy to draw at her mother's feet while she cooked, was catapulted to international fame as a child prodigy. The damage is profound, to the girl and her whole family, and we stand witness to the unfolding tragedy, as well as times of magic and delight. The way this book is structured, and the story moves forward and backward across time, is seamless and fascinating. A remarkable book and collaboration with the narrator!
Fortunately, I had a five hour drive across Maine and NH to listen in rapt attention to half the book! What a thrill!"
"History Brought Beautifully to Life"
"I tend to get bored with most straight history, but a historical novel based on real lives? Sign me up! Between the author's scrupulous attention to detail and the voice actor's performance, "The Velveteen Daughter" is a novel worth hearing. You'll feel as if you've embodied both mother and daughter and you'll want to take this journey, where the two of them grapple with art, genius, madness and intimate family relationships. Toss in visits with Pablo Picasso and Eugene O'Neill and you've got a unique view into a slice of history that would have gotten lost without the author's attention. I often felt as if the writing itself was exactly like a piece of visual art, full of color and movement and meaning, as if I'd fallen inside a painting and was seeing it from the inside out. Incredible! If you like history, art, madness and terrific writing and narration, give this one a listen."
"Fantastic listening experience!"
"I've listened to a lot of audiobooks over the years, and cannot think of a more satisfying experience! Ms. Huber's fascinating story and flawless writing are matched perfectly by Ms. Lee's delivery. Lee did a superb job of smoothly bringing alive the voices of all the characters–man,woman,adult, child. The story is based on the lives of Margery Williams Bianco, author of the well-loved children's book, The Velveteen Rabbit, and her daughter Pamela, a notable artist beginning in her preteen years. It's an in-depth look at creativity, family dynamics, depression,and, especially, the power of the mother-daughter relationship. Listeners will feel part of the world of the arts in Europe and New York in the early 1900's, even meeting some of the great artists of the time. I can't recommend it highly enough."