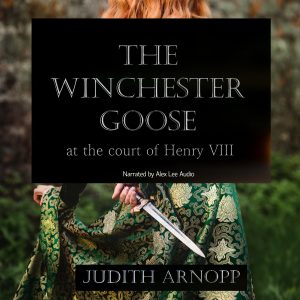 Tudor London: 1540.
Each night, after dark, men flock to Bankside seeking girls of easy virtue, prostitutes known as the Winchester Geese.
Joanie Toogood has worked the streets of Southwark since childhood, but her path is changed forever by an encounter with Francis Wareham, a spy for the King's secretary, Thomas Cromwell. Meanwhile, across the river, at the glittering court of Henry VIII, Wareham also sets his cap at Evelyn and Isabella Bourne, members of the Queen's household and the girls, along with Joanie, are drawn into intrigue and the shadow of the executioner's blade.
Set against the turmoil of Henry VIII's middle years, The Winchester Goose provides a brand new perspective of the happenings at the royal court, offering a frank and often uncomfortable observation of life at both ends of the social spectrum.
©2012 Judith Arnopp (P)2022 Judith Arnopp
---
By: Judith Arnopp
Narrated by: Alex Lee
Length: 8hrs 23 mins
Unabridged Audiobook
Release date: 23rd Sept 2022
Judith Arnopp's novels are set during the War of the Roses and the Tudor era. They focus on women like Margaret Beaufort, Elizabeth of York, Anne Boleyn, and Mary Tudor. She has a Master's degree in medieval studies and a BA in English and creative writing from the University of Wales, making Historical Fiction the only obvious career choice. She lives on the coast of West Wales with her husband, John, and now her family have flown the nest, she writes full time from her home overlooking Cardigan Bay. Her first three books were set in the Anglo Saxon period but since switching to the Tudor era her career has flourished and she now has twelve books in her catalogue, the thirteenth due for publication early in 2021. All books are available on Kindle and in paperback, some are on Audible. Judith also writes non-fiction, her work features in several anthologies and magazines. You can find more information on www.judithmarnopp.com and follow her blog on http://juditharnoppnovelist.blogspot.com. She is also on Facebook, Instagram and twitter.
All available on Kindle and in paperback, some are on Audible.
---
---