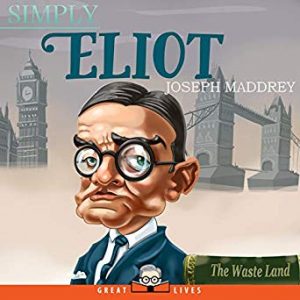 Simply Eliot: Great Lives…
Though he was born in St. Louis, Missouri and attended Harvard University, at the age of 26, Thomas Stearns Eliot (1888-1965) emigrated to England, where he lived and worked for the rest of his life. Influenced equally by his formative years in the New World and his experiences in London during and after World War I, Eliot strove to reconcile a variety of conflicting ideas while trapped in an unhappy marriage – a struggle that gave rise to some of the greatest poems of the 20th century.
In Simply Eliot, Joseph Maddrey plumbs the emotional and intellectual life of the man whom critic Edmund Wilson called "one of our only authentic poets." Taking The Waste Land (written in the aftermath of World War I) and Four Quartets (published 1936-1942) as reference points, Maddrey chronicles Eliot's attempts to create a coherent worldview, and explores how his religious conversion in 1927 led to a spiritual rebirth that allowed him to produce his ultimate poetic statement.
Making use of previously unavailable materials, including over 5,000 personal letters, Maddrey offers an intimate and incisive portrait of Eliot, and illustrates his continued relevance as both a Romantic and Classical poet, as well as a religious and spiritual thinker.
---
By: Joseph Maddrey
Narrated by: Alex Lee
Length: 3 hrs and 52 mins
Unabridged Audiobook
Release date: 15-04-19
Publisher: Simply Charly
Available from:  Audible   Amazon   iTunes
---
---
Reviews