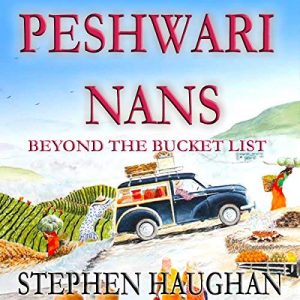 In their twilight years, two 80-something sisters, Esther and Minnie are coaxed from their easy chairs and their comfort zone of carpet slippers, crochet hooks, jigsaws, and rummage sales to fulfil the dying wish of a dear friend.
They go on to undertake a road trip of sorts in Esther's beloved classic Trafalgar blue Morris Traveller, affectionately known as "Vivian". The trip, however, is no minor errand to return late library books. Theirs was to be an epic undertaking of some 7,000 miles, from London's White chapel to Raipur, deep in the heart of the Indian Subcontinent, passing through no less than 10 countries along the way, including Poland, Russia, China, and Tibet.
Esther and Minnie's saga, of course, does no go without the occasional hitch, but the sisters eternal love for one another and their quintessential innocence and innate kindness stand them in good stead when faced with seemingly insurmountable odds.
---
By: Stephen Haughan
Narrated by: Alex Lee
Length: 25 hrs
Unabridged Audiobook
Release date: 26-07-18
Language: English
Publisher: Stephen Haughan
---
---
 "Loved the kindness"

"An era gone by! Not everything old is bad, we can learn a lot by the sister's way of treating each other. A book full of love, laughter and a window on the world.  Look around and see what you can do to make someone happy in small acts of kindness and selflessness"

Tersia  26-08-18