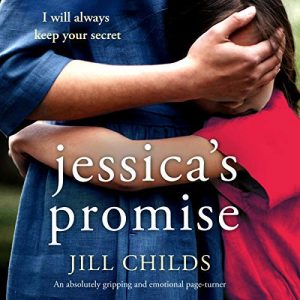 An absolutely gripping and emotional pause resister
"You wouldn't trust a stranger with your wallet. Or your house keys. So why your little girl, the most precious thing you have?"
Teresa's heart stops when she enters her daughter's bedroom to find that her sweet, trusting little girl is gone.
Teresa can't bear to think who would take a terrified three-year-old from her mother in the middle of the night, but all the signs point to someone close to home. Hasn't Jessica's stepfather been acting a little oddly? Or is it, as Teresa is beginning to fear, something to do with Angie, her daughter's babysitter who lives next door…?
Gentle, retired Angie – she must be lonely, with only her memories to keep her company in that big, old house. And she's always had a special connection with Jessica… was trusting Angie with her precious daughter the biggest mistake of Teresa's life?
What do we really know about those who watch our children? Jessica's Promise is a compelling domestic drama for fans of Jodi Picoult, Lisa Wingate and Kerry Fisher.
---
By: Jill Childs
Narrated by: Alison Campbell & Alex Lee
Length: 9 hrs and 34 mins
Unabridged Audiobook
Release date: 26-09-18
Publisher: Hachette UK – Bookouture
Available from:  Audible   Amazon   iTunes
---
---
Reviews.
"This is the first book I have every read of Jill Childs and trust me, it is a book to be read
There are many twists and turns when you think 'ah I think I know where this is going' some of twists much bigger than I thought they would be.
I am not saying anymore, is I don't like doing spoilers. Follow the complexity of Angie, Teresa, Craig, Fran and Jessica, – just READ it – you won't be able to put it down."
"I loved this book found it hard to put down. I loved the way it followed on seeing things from each character's view point. The make believe play room took me back to a very different world before little ones relied on tv's and tablets for entertainment; using their imagination to take them to far off imaginary places. I was also surprised by the ending not what I expected at all. I will not say why so as not to spoil it for those who haven't read it yet. Once started this book is extremely hard to put down. Enjoy the read!"