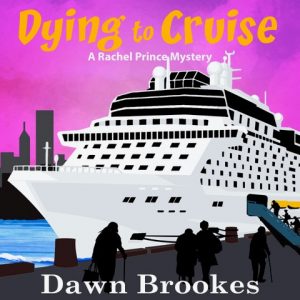 Dying to Cruise…
The only thing worse than getting stuck aboard a cruise ship with a murderer, is discovering that your ex is on board, too…
When you spurn a cold-blooded killer, vengeance will someday follow.
Rachel thinks she is living the dream. Taking a cruise around Australia and New Zealand as a guest lecturer and meeting up again with her best friend, cruise ship nurse, Sarah. The scene is set for the holiday of a lifetime!
Rachel Prince is drawn to investigate when the leader of a bucket list tour party is discovered in the library on the first day of her antipodean cruise. Can this seemingly harmless group of elderly people have a killer among them?
Difficulties abound for everyone when an interim chief of security causes countless problems and appears to take an intense dislike of Sarah. Not trusting the new chief to get to the bottom of the murder, Rachel investigates on her own, soon discovering that the dead woman from the bucket list tour party had been receiving anonymous threatening emails. To make matters infinitely worse, Rachel's ex turns up on board, and things start to go horribly wrong.   The cruise ship sleuth needs to work fast to find out if one of the gentle elders on the bucket list tour is a murderer while avoiding her ex like the plague.
---
By:  Dawn Brookes
Narrated by: Alex Lee
Length:  6 hrs 43 min
Unabridged Audiobook
Release date:  10/01/20
---
---
Reviews
You don't need to be dying to enjoy
I enjoyed this book. This is book four in the series and I have listened to all of them and thought they were great and this book is no exception. The characters are interesting and I like the mix of passengers and staff and the way they work well together to get to the bottom of the mystery. There was plenty of suspects and clues to keep you guessing. The added story line of the ex fiancee on the cruise to disrupt Rachel happy life was interesting and added another twist to the plot.
Rachel is on another cruise, this time as a paid guest and everybody one board hopes it won't be like her previous trips as the head of security if off on his honeymoon. However there wishes aren't answered when the leader of a group knows as The bucket list tour group is killed. She had been worried for life before she set sail and shared her worries with a dear friend only for him to be the one to stumble over the body. Rachel vowing to stay out soon changes her mind when the acting head of security sets his eyes on an innocent man. Things get complicated when Rachel discovers the man who dumped her for someone else is also on board the ship. Trying to avoid him proves to be impossible when he keeps turning up where she is. Is he following her? Or someone else? With her friend Sarah and the rest of the medical team Rachel sets about to find out what is going on. Will being the self defence instructor prove to be helpful in this case?
I like the narrator with her laid back English voice and think she was a good choice for this book.