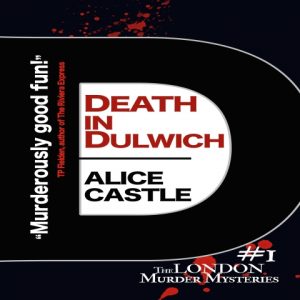 Death in Dulwich.  The London Murder Mysteries Book 1…..Thirty-something single mum Beth Haldane is forced to become Dulwich's answer to Miss Marple when she stumbles over a murder victim on her first day at work.
To clear her name, Beth is plunged into a cozy mystery that's a contemporary twist on Golden Age crime classics. But can she pull it off? She already has a bouncy young son, haughty cat, a fringe with a mind of its own and lots of bills to pay, as she struggles to keep up with the yummy mummies of SE21.
Join Beth in #1 of the London Murder Mystery series, as she discovers the nastiest secrets can lurk in the nicest places.
---
By: Alice Castle
Narrated by: Alex Lee
Length: 7 hrs and 42 mins
Unabridged Audiobook
Release date: 25-01-19
Publisher: Alice Castle
Available from:  Audible   Amazon   iTunes
---
---
Reviews
There's murder involved but Death in Dulwich is a great read for a rainy day in front of the fire. Beth, the main character, is a gentle, intelligent and lovely single-mother to a typical nine-year old boy (who tells her that his school projects are due that day at six in the morning), and she's determined to find the killer of the Archivist at the school she's just started working for. Red herrings are dotted tantaslisingly about, leading the reader to one possible conclusion after another. Beth makes an excellent sleuth – she's determined too. Rather more so than Harry York, the detective who (to my mind) is sexy as hell. As this is subtitled "The London Murder Mysteries 1" – I have every hope that York emerges again in the next book, and Beth too. Together I hope…let's see. Alice Castle has a tendency to tease. Loved the story (and Beth's fringe).