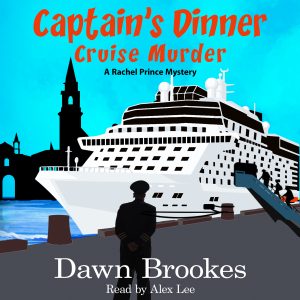 Rachel Jacobi-Prince and Lady Marjorie Snellthorpe are delighted to be invited to dine at the captain's table. A pleasant dinner, shared with Marjorie's son and troublesome daughter-in-law, becomes less palatable when the guest of honour goes missing.
Rachel suspects foul play, and with a slew of suspects who each have motives, she fears she could be too late to stop the killer getting away with the crime.
One of the dinner guests is a killer, but with all of them having something to hide, Rachel finds it difficult to narrow it down. With Lady Marjorie's son determined to do business while on board ship and his wife flirting with the unpleasant Sir Wilfred Vanmeter, Rachel and Marjorie's patience could be tested to the limit.It's up to Rachel to keep Octavia Snellthorpe out of Marjorie's way while trying to track down a killer before somebody else ends up in a body bag. It appears all of the guests, including Jeremy Snellthorpe were bamboozled by the bedazzling diamonds that have also gone missing, presumed stolen… Jeremy seems ignorant of his wife's flirtation, but is he? And what of the scruffy Thomas Elrod, son of the missing woman?
Rachel must unravel each of their secrets in order to identify a ruthless killer, before someone else becomes fish bait.

Captain's Dinner Cruise Murder is the exciting tenth book in the Rachel Prince Mystery series. If you like seafaring suspense, dastardly deaths, and edge-of-your-lifeboat tension, you'll love Dawn Brookes's latest adventure.
---
By: Dawn Brookes
Narrated by: Alex Lee
Length: 7 hrs 9 mins
Unabridged Audiobook
Release date: 4th April 2022
Publisher: Dawn Brookes Publishing
---
---
Reviews
I have read all of Dawn Brookes 'Rachel Prince' books and this is another enjoyable yarn. Two main characters are missing from this latest cruise, and I did wonder if Rachel would be able to glean enough relevant information without them, but she did, and the story flowed at a good pace. New characters were introduced and the relationship between Rachel and her friend Lady Marjorie continued to develop. I like the pairing of a young Detective Sergeant and a titled octogenarian, it's a different dynamic to most in this genre. Theirs is a good friendship and there is a lot of funny banter between them. I won't go into the plot, not wishing to spoil it for others who haven't read the book. All I would say is there is no bad language, the characters are all capable of expressing themselves without it, and no revelling in gore. Of course it's not realistic, no one could be involved in a murder investigation every time they set sail on the same cruise ship, but that's not the point really. It's about escapism, losing yourself amongst the familiar characters and working out 'who dunnit' and for those of us who like cruising, it brings back memories of our own, thankfully, uneventful cruises in comparison to Rachel's, and allows us to dream of the next one. Well worth a read – treat yourself to the whole series and start with book one, you won't regret it.