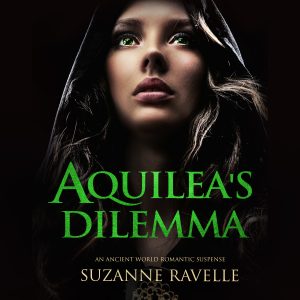 In life-long service to the Goddess Vesta, devout Vestal Virgin, Portia Aquilea, has but a few simple duties:
Tend to Rome's sacred flame.
Conduct herself with the utmost decorum.
And never let any man touch her.
Unfortunately, however, she's about to fail at all three….
"Helios stood abruptly. On a groan of anguish, he fisted his hands to stop himself reaching for her. But nonetheless, he still just wanted to grab her. To throw her down and show her what he could give her. What she was missing. What she wanted from him. What he knew that she craved even if she didn't truly know it yet. The only thing for it was to offer himself to her. She could either accept him or reject him. Or slay him.
He decided the risk was worth it…."
Set in ancient Rome during the reign of the unpredictable Emperor Nero, Aquilea's Dilemma can be listened to as a stand-alone, dramatic, and sometimes steamy historical romance fantasy or as book 2 in Tales from Ancient Rome to Entertain & Enthrall.
---
By:  Suzanne Ravelle
Narrated by: Alex Lee
Length:  7 hrs 45 min
Unabridged Audiobook
Release date:  23/10/19
---
---
Reviews
Reviewed in the United Kingdom on 11 January 2020
Another great read, hard to put down once you get into it, the characters draw you in and leaves you wanting more
Reviewed in the United Kingdom on 22 July 2020
Loooved this book captivating with its history, drama, romance, excitement and cheeky humour…couldn't put it down! Highly recommended summer read