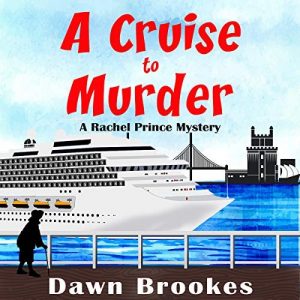 A Cruise to Murder   …..…..join Rachel Prince, our new female sleuth, aboard the fictional Coral Queen and prepare yourself for a cruise to remember!
Rachel is twenty-five years old, and appears to have everything. She is beautiful, bright and has recently qualified as a police woman. So why is she so sad?
…..Her fiancé dumping her for another woman, might explain it!
Now what?
She needs rest and relaxation. Her best friend Sarah is a nurse on board a cruise ship, and offers the solution. Surely a Mediterranean cruise will help?
Well it couldn't hurt….
Or could it?
When Rachel befriends an elderly woman in her eighties, the titled, Lady Marjorie Snellthorpe appears concerned about something. Danger and menace seem to be closing in on her…..
Meanwhile, Rachel finds herself falling under the spell of the charming and attractive Carlos. Who is he and why is he so secretive? What could he be up to?
One of the passengers meets with a tragic accident while onshore with Lady Snellthorpe, and the tension builds. With danger threatening at every turn, Rachel needs to get to the bottom of this mystery before someone else is killed. She is putting herself in danger. Could she be the next victim?
This cozy/thriller has suspense and intrigue. A good, clean murder mystery with lots of red herrings.
You don't have to like cruising to enjoy this book but if you do you might get a double dollop of pleasure.
---
By: Dawn Brookes
Narrated by: Alex Lee
Length: 6 hrs
Unabridged Audiobook
Release date: Oct 2018
---
---
Reviews
"Fun frolic in the sea"
"I loved this audio. The characters were relatable and I found the story totally engaging. I look forward to hearing/reading more of these. They are an interesting take on a murder mystery."   Linsey, Wales  18.10.18
"Easy listening mystery"
"This is an ideal book for lovers of cosy crime mysteries. It is easy to listen to, with a simple storyline and only a few main characters. 
The action takes place a cruise liner bound for the Mediterranean. The main character is Rachel, a newly appointed female police constable, who is taking a holiday following a failed relationship. Whilst on board, she befriends an old lady, and soon begins to suspect the old lady is in danger. There follows a series of suspicious events, culminating in a murder. 
With the help of her old friend Sarah, who is working on board as a nurse, Rachel sets about solving the crime, ultimately placing herself in danger."     Sweetpea, Nuneaton 17.10.18