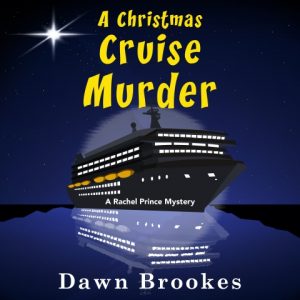 Rachel Prince is back
Rachel's plans to spend Christmas with her fiancé are in tatters after he is called to Italy at short notice.
Rather than spend Christmas with her parents, Rachel decides to take a last-minute Canary Island cruise. Sarah, cruise ship nurse and Rachel's best friend is only too pleased to have her along as Sarah's parents are taking their first cruise. With her mother keen for her to settle down she is glad of the moral support.
During a coach journey to the port of Southampton, Rachel meets a petulant maître d. That evening the same maître d is found dead, seemingly a victim of a tragic accident. Rachel can't resist snooping once she suspects an element of foul play. Was it a fatal accident or murder?
Chief security officer Jack Waverley finds himself confused and upset when his wife is implicated.
Suspects are not in short supply as secrets are uncovered providing opportunity and motive. The killer has an eye on Rachel.
Can she find out who is responsible before she ends up as another victim?
---
By: Dawn Brookes
Narrated by: Alex Lee
Length: 6 hrs 47 mins
Unabridged Audiobook
Release date: Dec 2020
---
---
Reviews
Reviewed in the United Kingdom on 8 July 2020
I have read this through lockdown and it has been an entertaining book to read. I have read some of the the other books in this series and I thought this one compared well. I know nothing about cruising and it is interesting to read how everything works in terms of security and healthcare. Given the story takes place in the days before Christmas and the title refers to Christmas I thought there could have been a stronger theme in the plot about the festive season. There were references to a concert, and other events, but Christmas was largely irrelevant to the plot. I thought that Rachel's character could have been elaborated a little more, and the same for Sarah. Although Rachel is the main character I feel she comes across as two dimensional, a little too focused on the case. I enjoyed the various events leading up to the conclusions but in the case of the murder I thought the culprit's confession was dealt with a little too quickly, right at the end.
Reviewed in the United Kingdom on 7 January 2020
I pre ordered this – it was released 20 Dec. I set sail myself from Southampton for thee Canaries 21 Dec. I had planned on beginning it that eve. The weather however had other plans, we had very strong winds up to Force 12 ! When I did manage to begin I was not disappointed I have read all of these cruise mysteries. Before Rachels cruise began we had a body, and Rachel had sat with the victim on the coach from London to Southampton. She also had a phone call from Marjorie her friend who she met in book 1. Marjorie has friends on the cruise and is worried for there safety. So it looks as if Rachel is going to be busy and all this without Carlos. Apart from Dawn being a good story teller, something else I like is NO BAD LANGUAGE & NO SEX SCENES. Can well recommend I am already looking forward to the next book due later this year.